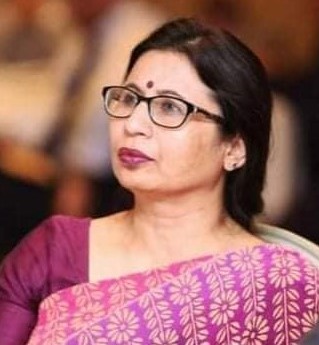 Sharifa Khan
Chairman, IIFC and Senior Secretary, Economic Relations Division (ERD)
Ms. Sharifa Khan, Senior Secretary, Economic Relations Division, Ministry of Finance, joined as the Chairman of the Infrastructure Investment Facilitation Company (IIFC) on 20 August 2022. She, a career civil servant, joined as the Secretary, Economic Relations Division (ERD), Ministry of Finance, on 17 July 2022. Prior to this position, she was the Member (Secretary), Planning Commission, Bangladesh for about one and a half year.
Mrs. Sharifa Khan belongs to 9th Batch of BCS Administration Cadre who joined the Bangladesh Civil Service on 26 January 1991. In her colorful career, she held various positions in the Ministry of Agriculture, BPATC, Deputy Commissioner's office, Dhaka, WTO Cell and the Ministry of Commerce. She served for about five years at the International Fertilizer Development Center (IFDC). She also served as the Commercial Counselor, Bangladesh High Commission, London from 2012 to 2017 with high reputation.
Mrs. Sharifa Khan obtained her Bachelor (Honors) and Master's degrees in Economics from Dhaka University. She also holds Diploma and Master's degrees in Development Economics from the Australian National University (ANU), Australia. She completed nine months Advanced Course in Economics and Quantitative Techniques from Bangladesh Institute of Development Studies (BIDS). She has vast experience in international trade and economic development. She participated in various trainings, seminars and conferences at home and abroad. Besides, she has earned reputation as a guest speaker in various government and private institutions on international trade, WTO issues, free trade agreements and macro-economic management. She published a number of articles on global trade, LDC graduation, intellectual property rights and agriculture negotiations in various local and international journals.
She was born in Mirzapur upazila of Tangail district. Her father late Samsuzzaman Khan was a government official and her mother late Kazi Hafeeza Khatun was a school teacher. Mrs. Khan's husband Mr. Abu Naser Khan is a renowned environment specialist. She is the proud mother of two sons.